How to integrate social media analytics into your marketing strategy
Social media is a vital part of how brands do business and engage in conversations with their customers. As the fundamental nature of the consumer relationship changes, the customer is now in the driver's seat.
Many marketers fail to have a unified marketing strategy across social media and instead treat each account as a stand-alone channel. Building a solid brand reputation by approaching all social interactions with a common voice and intent and understanding engagement trends via analytics is an effective way to increase presence and improve business conversions.
Without great content, social media is meaningless, but without social media, nobody will know about your content.
Social media is a great way to share quick updates and grow an online audience, but it's also a great place to boost your content marketing efforts and search ranking of your website. Without great content, social media is meaningless, but without social media, nobody will know about your content. Use them together to reach and convert your potential customers.
In this article, we will give you a few tips on how to integrate social media analytics into your content creation and marketing strategy.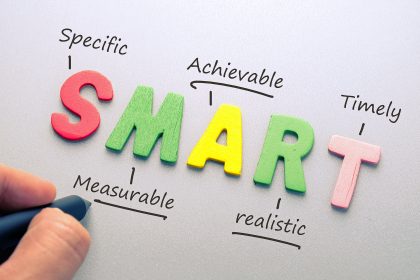 Bring your website and social media together
For all businesses, conversion takes place at the end of a line of customer actions: discovery, trust (brand reputation), engagement. A vital part of your marketing strategy should be to find subjects and content that engages with your audience.
A great place to start is to observe and research your closest competitors to keep you apprised of their activities and to give you an idea of what's working. That will also develop a greater understanding of what is valuable to both the competing company and as well as their customers. Take ideas and use knowledge from the research to improve your own overall goals.
The next step in your process is to create a digital marketing strategy and identify specific marketing objectives for your content creation. A common practice is to apply the widely used SMART mnemonic to support long-term goals.
Specific – Set real numbers with real deadlines. Keep it to one goal per marketing plan to maximize efficiency and don't say: I want more visitors.
Measurable – Make sure that you can track your goal. To determine the success of a marketing plan, you need to have milestones and goals to measure.
Achievable – Work toward a goal that is challenging but possible. A realistic set of marketing goals motivates staff members to try to achieve the success outlined in the plans.
Realistic – Be honest with yourself, because you know what you and your team are capable of. Set up realistic goals, as there might be hurdles you may have to overcome.
Timely – Give yourself a deadline. Don't keep pushing towards a goal you might hit some day. A marketing plan has a scheduled beginning and ending.
When you have defined your SMART objectives, and finalized your KPIs for your marketing strategy, it's time to set up a plan for subjects, storyboards and articles that relate to your business goals and should resonate with the target audience.
Focus on writing at least one or two articles a week. As mentioned before, you will only get great engagement from your articles if they will give a value to the reader. Focus on writing quality and not quantity. It's not about writing as much as possible, it's about building a brand reputation through social media and finally engagement.
Post your content on social media
By posting your content on social media, you'll get an idea on what kind of content engages your audience and what they like to share and see shared. Experiment with headlines to spot trends in wording or subject matters to help give you an idea of what content performs best with your social media following.
Each social media platform is slightly different from the other. Social media analytics will provide you with insights into what content is creating the most buzz and interest online within your target group. Your brand can leverage this information to identify top content, brand influencers, and more.
Many social media platforms now offer native analytics tools to better enable marketers to track and analyze data. Facebook Insights, Twitter Analytics, Instagram Analytics, and Google Analytics are a few of the platform tools available for social media analysis.
That sounds like a humongous task to track and measure all social media analytics on several different platforms, but no worries, there are marketing tools that can automate that whole process and give you insights around your content and the most important metrics, week-over-week and month-over-month.
We'll get to that later.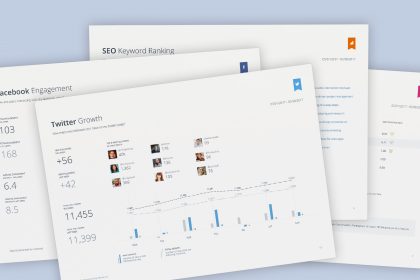 Study your brand's social analytics
To succeed with your marketing strategy, measure what matters, try to avoid vanity metrics such as a sudden growth in likes or followers, which might make you feel great about your efforts, but by itself, it doesn't really tell you anything to help you adjust your marketing strategy.
Instead, focus on the analytics that are important to your goals that you have set up in your strategy, then review other data for trouble signs or trends that can impact your efforts. For example, if growing your engagement is a target goal in your strategy, then you need to zero in on engagement levels per-post to see what works and what doesn't.
If you're identifying content that has underperformed, explore why it may have fallen short and look for ways to optimize it and improve engagement. For example, can you add more value to the content, improve your titles and headlines, or adjust how you promote your upcoming content.
Fine-tune your posting schedule
Post your content on social media when your target audience is most ready to consume it. The majority of your audience may be up during the day, but that doesn't mean they are checking their social accounts at the same time.
What time they check and on which days can vary greatly from one audience to another. Your social media analytics can tell you exactly when your audience is most likely to engage with your content.
Experiment with your posting schedule to measure what time and day of the week each social media channel is working as it best for your audience. Do a benchmark of your closest competitor's posting schedule to see if there's something you can learn about how to fine-tune your own.
Craft your marketing strategy around insights
Great content will boost your brand's reputation along with your organic search rankings Your content creation strategy is a process that must be measured week-over-week and then slowly be crafted into a process that fits your audience.
A data-driven content creation strategy helps you to target current and potential customers, and it will massively affect a company's growth and make all marketing aspects in the future more seamless, efficient, and effective.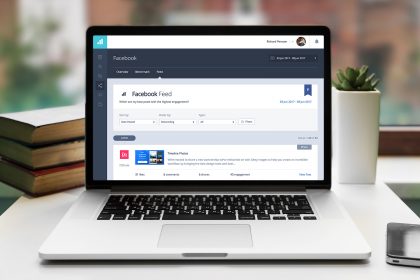 Social media and marketing analytics all-in-one
As mentioned earlier, there are online software and tools that can track, measure and report on your social media metrics. One of them is Outsmart.
Outsmart is a subscription-based internet service designed for competitive intelligence, social media, and marketing analytics. With Outsmart you can set up custom social media analytics reports with the metrics that matters to your strategy and get those delivered directly to your inbox each week and month.
Outsmart can also provide competitive insights around your closest competitors' marketing and social media efforts. You will get insights on posting schedules and posts that have the most engagement.
Outsmart comes packed with smart social media insights such as Twitter analytics, Instagram analytics, Facebook analytics, Google+ analytics and a lot more to help simplify and mainstream your marketing strategy.
Sign up for free today and spend your valuable time at creating creative content.