Improve your marketing strategy with social media analytics
Social media contains a great amount of data that is beyond price to any digital marketer. How people react and engage with a certain subject or imagery are valuable insights that can improve your marketing strategy and brand reputation.
Tracking and analyzing those type of social media metrics can help marketers to improve their success in creating engaging content and build an audience that is highly receptive for services or products that a business has to offer.
Social media analytics can help marketers to identify high-performing content based on audience, approach, trends, and the effectiveness of a brand's social media activity on different platforms. It's also a great way to prove marketing spend and to show a return of your investments on social media.
Marketing is all about data and analysing what works and not, should be a part of every marketer's strategy. A successful marketer needs to be data-driven in every detail of their work, as it ensures that their social media content is effective and that it justifies social ROI.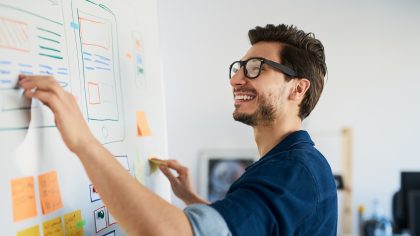 Identify goals and track KPIs
Before beginning your social media data analysis process, identify your social media key performance indicators (KPIs) and set up goals on how you will achieve those KPIs over a fixed timeframe, i.e. all marketing plans has a scheduled beginning and ending.
Ideally, your selected KPIs should represent your overall business strategy and on social media it will most likely be brand awareness metrics to grow your audience, trust and finally traffic to your website. Identifying and prioritizing KPIs for your marketing strategy, will help you to analyze your data efficiently and effectively.
Simplify your work with online tools that automatically gives you insights around your most important social media metrics.
There are several online tools that collects, measures and reports on social media analytics data. Some of the best tools collects all important data in a simple, user-friendly interface that is intuitive and easy to manage. Some tools even provide marketers with weekly or monthly insights around the most important social media metrics needed to measure and track KPIs.
Measure your own content is great, but getting knowledge into your competitor's efforts is even better.
Analyse and benchmark your competitors
Knowing what your closest competitors is doing in the same space as you, is more or less the most vital part of any type of marketing strategy. You are after all, competing about the same audience and market space in one way or the other.
There's nothing wrong in analysing or benchmark yourself against your closest competitors, it's rather a process that should be incorporated in any business or marketing strategy. It gives marketers fresh indicators of how the market strive and responds to new ideas and trends within your marketing segment.
Once you have your KPIs set up, a great way to start, is to analyse and benchmark what content that engages and resonates with your audience. A quick and easy way to do that, is to look at your closest competitors. What do they do strengthen their brand and how do they communicate with their audience?
Engagement points to measure
In the content feed of your competitor's social media channels, you can calculate the average engagement score for each post and sort out those posts that have shown to engage the audience.
It will give you vanity metrics as likes, but also real engagement metrics as comments and shares, so to make any real value out of these metrics, marketers normally calculates the average engagement rate for each post. Engagement rates are calculated based on audience size and post activity over a period of time, and it gives a more accurate picture.
Applause Rate – is the average amount of likes a post have collected based on audience size and post activity.
Conversation Rate – is the average amount of comments a post have collected based on audience size and post activity.
Amplification Rate – is the average amount of times a post have been shared based on audience size and post activity.
The most successful posts with highest engagement rates will give you insights on headlines, content, imagery that attracts your audience. By using engagement rate as your metrics, you make sure each post havehas equal amount of attention, even if one competitor got one million followers and another, only five hundred.
Create content and measure its impact
Knowing what your competitors is doing right, will give you a lot of new ideas on how to improve your marketing strategy and how to leverage your social network accordingly.
A data-driven content creation will help you to find creativity, trends and buzz that engages with your audience, and it will make it easier to target your current and any new potential customers. Be experimental, try new ways to write and build content to spot trends in wording or subject matters to help give you an idea of what content performs best with your social media following.
Make sure to measure each marketing campaign against your KPIs to see what kind of content that engages with your audience and what they are likely to share and see shared. Slowly build your brand reputation through social media and finally increase engagement and business conversions.
Remember, this is not about copying what your competitors are doing, it might not always be the best approach, instead use your their insights to measure your own success against theirs and strive to stay ahead.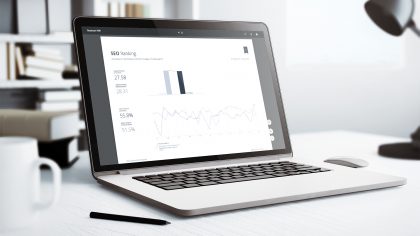 Understand each platform separately
Not all social media platforms behave the same and an audience on Twitter do not respond as an audience on Facebook. It's therefore important to analyze data and target the unique metrics from each social media platform separately.
Many platforms offer native analytics tools to better enable marketers to track and analyze data. Facebook Insights, Twitter Analytics and Instagram Analytics are a few of the platform tools available for social media analysis.
However, it is great way to measure yourself and your own statistics, but gives you nothing to none information about your competitors. Plus, that you need to manage many different accounts to get information out of them.
A competitive social analytics software
As mentioned earlier, your goal with an improved marketing strategy from social media analytics is to measure and benchmark yourself against your closest competitor, week-after-week, without hindering the process of your creativity and content creation.
It sounds complicated, but luckily, there's an online solution built exactly for just this purpose.
Outsmart is an affordable internet service designed for competitive intelligence and social media analytics that can be used to simplify your marketing process. Outsmart collects all important social media metrics in one platform, so that you can focus on strengthen your strategy and achieve better results.
Outsmart comes packed with features for competitive intelligence, social media analytics such as Facebook analytics, Twitter analytics, Instagram analytics, and much more. Easily set up KPIs and measure your own success or failures against your closest competitors.
Sign up for free today and make sure that you stay ahead of the competition.